SoftTa.co
Soft Tacos: They aren't just for breakfast anymore!
Have a drink from your Sota Pitcher with your tacos! While you play the Rockem Lego Minecraft Mashup!
Convergence 2013 Panoramic Photos
Dance, soft taco dance!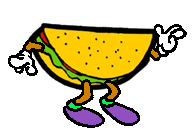 Philosophical Question for the future ages: On Star Trek: The Next Generation, why doesn't anyone order a soft taco with a food replicator? Why always earl grey tea and chocolate sundaes?
Defiance Voltan Species Inspirations
Castithan – Tolkien Elves (cast conscious)
Irathient – Cat People (defiant)
Indogene – Trek brain people (gene)
Liberata – WoW Dwarves or Gnomes (little liberals?)
Sensoth – Wookies (sense based)
Gulanee - ? (energy)
Volge – Orcs? (vulgar)
The eighth race (season 2?)

Est. 4/29/13